After checking my emails a zillion times over the last 2 weeks I finally got
the plans from the kitchen company
who draw up a new kitchen layout for us recently.
To refresh your memory here is our humble ole kitchen when we first moved in ... that wall near the fridge is the pantry wall that will be knocked out.
This large window in the Dining Area will be cut into french doors leading out onto a deck.


The basic layout of the kitchen will stay the same except there is more cabinetry being built, the cabinets will go down to the ground (
not 5cm off the floor like they are now
) and up to the ceiling creating a heap more storage space.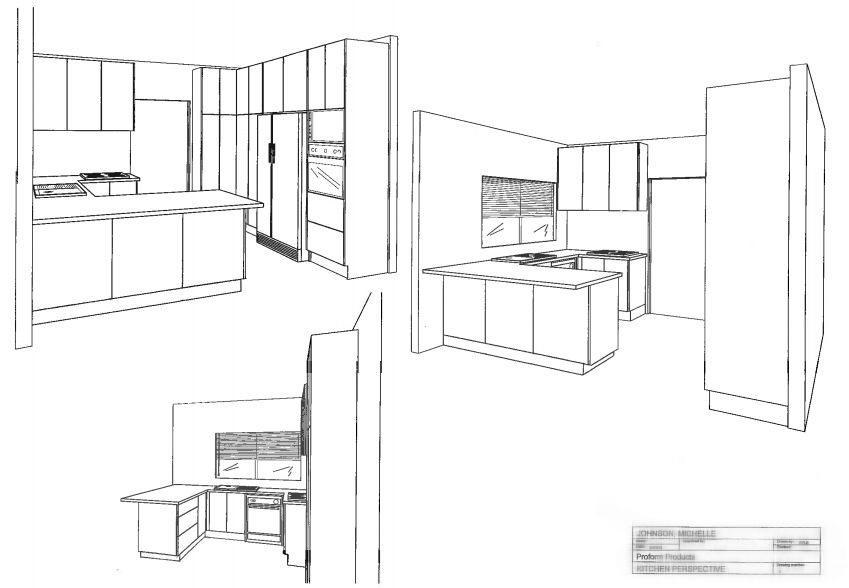 The stove top will be in the place where the oven use to be with cupboards below and above.

The glass cabinet will be replaced with a cupboard that goes up to the ceiling with a built in exhaust for the stove top.

The sink is being moved across slightly to fit in a dishwasher yipee yiyay!



A wall of cabinets will be built around the fridge and will house the oven and microwave with again more storage.

The pantry will be reduced in size by the pantry wall that protrudes out into the room being knocked out, the pantry itself won't be any smaller as I'm a hoarder when it comes to canned goods!


An extra smaller pantry/appliance cupboard is being built next to the main pantry in an otherwise wasted space behind the door. I'm pretty excited about that idea - it's something I hadn't thought of and will be so handy for appliances and smaller
kitchen items
like spices, oils and even cookbooks.

We aren't exactly sure what type of cabinet doors we want so we had them quoted in a mid range so we will have an idea of the approximate cost. We also had the bench top quoted in laminate although we are now leaning towards granite because it's only a small bench top it might be worth spending the extra on a small space to get a big impact.

The quote came in at just over $11,000 and that is custom made to order cabinets, drawers, skirting, handles etc but it comes flat packed and needs assembly and installation. On top of that is also the plumbing, electrical, splash back, appliances, french doors, painting, demo work and repairing the ceiling and floorboards.
We are now looking for another local cabinet maker company to get another quote and will compare the two.
I will no doubt be buried under kitchen brochures this weekend!
Pin It Now!