Hello Friday it's so good to see you! I'm linking up my Friday's Letters over at
The Sweet Season
why don't you head on over
here
and link up some letters too.
I'm imagining I'm writing my letters from this relaxing home office space with a pot of tea to keep me company.
Dear Valentines Day
- I don't need a day a year to make me feel loved by my man, he makes me feel loved every single day... although waking up to a big bunch of flowers and breakfast of vegemite on toast was pretty perfect.
Love you to the moon and back baby x
Dear Lexi
- Week 5's destruction was you ripping out the frangapanis I had been growing for months from cuttings and had started to flower and look beautiful.
Plants in the ground are not a dogs play things!
Dear Sick Friends
- One friend came out of hospital this week (
the care package
must have helped!) but sadly another friend went in. It breaks my heart when my friends are sick I just want to you feel better soon.
Love you like sisters xx
Dear Tenants Moving Out
- Let's hope for a smooth transition today when you
vacate the property
, I just want it clean and tidy and ready for the new tenant to move straight in.
No dramas and no hassles please and thank you.
Dear New Tenant
Moving In
- I've given you a chance as you've never rented a property on your own before. Someone has to give you your first go, and I know what that's like so just
don't let me down
ok.
Dear Body
- You may have only managed to run 2 laps and walk for 4 but you are hurting which means it must have done something! I'm keen to get fit and into running
no pain no gain body
!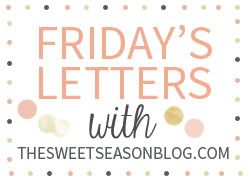 Head on over here to join in your Friday's Letters
[Image via Pinterest here]
Pin It Now!