We had a break from the rain last weekend and managed to spend a couple of hours in the Spring sunshine pulling weeds and transplanting some plants and trying to tidy up the garden ready for some entertaining now that the warmer weather is just around the corner.
There were 2 palms underneath
the French Doors
so they needed to be moved so we can put some steps near the French Doors so we can start using them to access the backyard. Eventually there will be a deck along the back there, but until then we are going to build some temporary steps or something as I'm absolutely hanging out to use
the French Doors
!
Digging up the palms to transplant them
Moving the palms out of the way
If that didn't kill it, I don't think anything will! The trunks have been growing side ways as well so instead of them standing tall they look like little dwarf palms. Coming from a vertically challenged person, I don't mind their shortness, good things come in small packages after all :)
The 2 palms ready to go into their new home
Once they were put into the ground and given a good water they look pretty happy in their new home. This garden bed is at the back of the granny flat so gets lots of morning sun and afternoon shade so that should keep the plants pretty happy. This use to be
a vegetable garden
but after the crops died down and with
Lexi
still wanting to dig up any patch of sand she can get her paws into, we have now made this garden our bed for plants that we are growing to transplant to the front garden once
the courtyard
is built (like the Yukkas we are growing from cuttings).
No Lexi you can't help dig the holes ... sorry pooch!
We transplanted the lemon tree which has not given me any lemons in the 2+ years I've had it so finally let it break free from it's pot and planted it into the ground, in the corner by the
back fence garden
. It has started to show flowers which is a good sign of fruit coming .... I would use lemons so much in cooking, baking and drinking
Bacardi and lemon is my favourite beverage
and would love it if my lemon tree started to product lemons by the bucket load!
This is how it looked back in 2011 when I first bought it home and planted it into a pot

Now 2 years on it's outgrown it's pot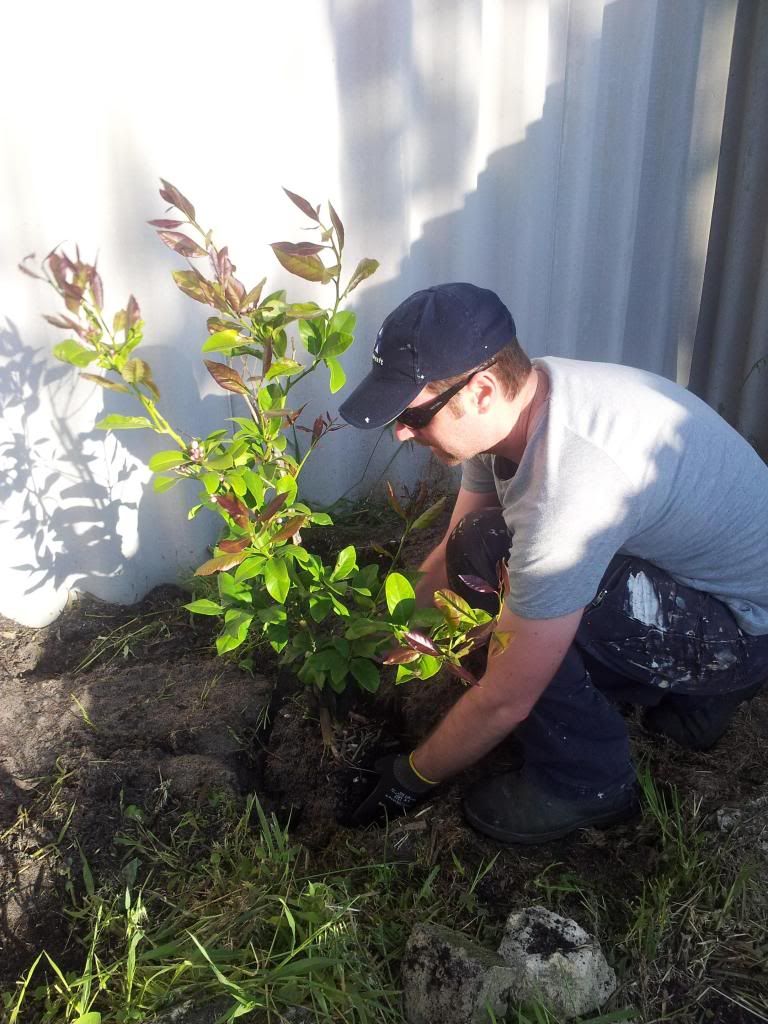 Mr P transplanting the lemon tree into the ground
Grow my pretty lemons GROW!
Showing before photos of all the weeds in the garden feels like I'm showing you my overflowing washing basket or pile of dishes ... I feel guilty for letting the garden get so unruly over Winter but honestly, it's so easy to forget about it when it's freezing cold and wet outside whose going to sit out there and weed? Not me!
AFTER - Weeds be gone!
The back fence garden got a long overdue weeding so you can actually see the limestone garden edging and dietes. They were a little lost in the weeds before! This was Mr P's job to do.
Mr P getting lost in the weeds!
Great job babe, you can see the plants again!
Meanwhile I tackled the
around the tree garden
trying to pull weeds out from amongst the flowers was not fun it was so fiddly and I had bees to dodge as well! I'm really not an outdoorsy person ;)
Around the tree garden full of weeds
A little better now !
Hopefully once we get some more sunshine we can spend a bit more time in the garden in the coming weeks to get it looking nice for Christmas and Summer entertaining. We are thinking about laying some
more lawn
, as the summer heat and then Lexi totally destroyed the last lot we laid. But not sure if Lexi is quite out of her destroying stage yet and it might be a waste of time and money to do so ... we will have to wait and see.
How has your garden been growing lately?
Hopefully it's not full of weeds like mine!
[All images my own]
Pin It Now!