I've been dying to show off my tree this year which I put up way back in November
ummm mah
a bit early I know I usually wait until 1 December but I wanted to have it up and looking good for my
Tour De Fridge party
!
Let's have a looksy at the O Christmas Tree in the Jarrah Jungle household over the years ...

2009 was the first year in the Jarrah Jungle and had me buying my first ever tree which I was so excited about and still am! Admittedly it's a little big and stands 7 ft tall - I thought the bigger the better and didn't realise the space it would take up. Oh well it's here to stay now!

2010 was Christmas when renovating
the Living Room and sadly the tree didn't make an appearance because the Living Room was squeezed into the Dining Room whilst we renovated!
2012
I've added some pinks and purples to the colour scheme and yes you guessed it
more bird ornaments
! I decided to put the tree up in the Living Room this year because I knew with
our coffee machine
now
on the cabinet in the Dining Area
there wasn't enough room and baubles would get knocked off every single morning making coffee which would drive me mad!
To see more
O Christmas Trees
head on over to
Honey We're Home Link Up Party
Check out party 1 theme Christmas Craft here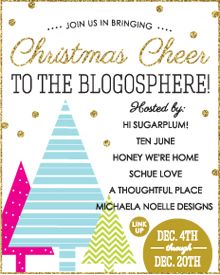 [Image Christmas Cheer Button here and
All other images my own]
Pin It Now!