Last week the Friday's Letters Link Up didn't happen and this week it was posted late Friday in America which means it's already Saturday in Australia so its
Fridays Letters on a Saturday
this week!
Head on over to
Adventures of Newlyweds
to join in with the
Fridays Letters
link up.
I'm imagining this weeks letters (and some Chrissy cards!) are written from this bright and fresh home office space.
Dear Bloggers
- Thank you so much for your comments and advice
when I needed some help
I know I can always rely on you guys so
thanks a bunch
!
Dear Picasa - I was devastated that I couldn't add any more photos to my blog and all my photos started to turn into big black boxes. So I paid $2.49 (plus a $2 conversion fee) a month but I'm not happy about it!
Dear Adsense
- In an attempt to get back my storage payment I tried to sign up for you but apparently I
don't meet the programs criteria
whatever that means. Maybe I'm not cool or unique enough. If you have Adsense do you have any tips for getting approved?
Dear Draftsman and Engineer
- For weeks we have been toing and froing providing more information for
our retaining walls and fence
- just draw the plans already - it's a fence not the Taj Mahal!
Dear Christmas Parties
- Last Saturday was my
Tuesday Girls Book Club
party which was so much fun and this Saturday I'm off to Mr P's work party ....
Tis the season
to drink and eat way too much!
Dear Bargain Queen Within - You are most appreciated come Christmas time when hunting for presents. Saving money means I can buy more gifts for my beautiful friends and family!

Dear Pampering - I've taken myself off for a bit of pampering this week massage treatments and a hair cut and colour. It's amazing how good I feel after a bit of pampering, I really should treat myself more often!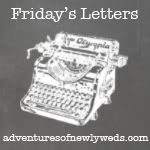 Pin It Now!