After much deliberation about the material for the kitchen splash back -
tiles Vs glass
and our
unsuccessful tile shopping expedition
we have decided to go for a glass splash back and
can you believe it
we have even managed to pick out the company and colour which means we are just weeks away from having a shiny modern splash back installed ....
oh happy days!
We got 2 quotes from 2 local glass companies, the first was from
Modern Glass
who we used for the glass in
the french doors
and the other from
WA GlassKote
who were recommended by a friend who used them for their kitchen splash back.
Modern Glass we visited their showroom and even though they were the cheapest at $1500 there would be more joins in the glass and we couldn't decide on a colour from the samples we took home.
GlassKote came out to the house and did a quick measure and quoted $2100 but with no joins in the glass and I liked their colour range better which was designed by a local Perth interior designer. Unfortunately GlassKote were too expensive and we told them we liked their product and would like to go with them but they would need to bring their price down and after a bit of negotiating they reduced it to $1500. So in the end we got a price match with no joins and the colour we liked - can't complain about that!
I've said it before and I'll say it again - always ask for a better price!
Let's compare costs -
while we're on the
tile Vs glass splash back
debate as this was a question I had which I couldn't find an answer for.
The mosaic tiles we found
would have cost approx $900 just for the tiles and then on top of that you need to pay for grout, hire/buy a tile cutter, and a weekend of your time if you're handy and want to give it a go, or pay a tiler to lay them. When we did
our bathroom renovation
, the tiler's labour cost twice as much as the actual tiles so this would have been a more expensive option in the end. Of course picking cheaper tiles and doing the tiling yourself would bring the cost down.
For $1500 we're getting the glass product and it will be professionally installed and ready to go. Cost wise I think the glass has worked out a bit cheaper (thanks to our negotiating skills!).
The mosaic tile we were thinking about buying
Types of glass
- there are 2 types of glass
Classic
which is plain glass and
Clarity
which has a bit of a sparkle in it - we chose Clarity of course
what girl wouldn't pick a bit of sparkle!
Classic plain glass and Clarity sparkle glass
As for colours - while I loved the dark teal Isobar and red Flame Red I think they will be too dark against the black granite bench tops and there isn't enough light in the room to get away with it. So we tried to pick out one of the colours from the shells in the granite so silvers, blues and greens and ended up with this blue/silver one called Frosted Ice.
Isobar and Bright Silver
We have a winner ... Frosted Ice
Getting it ready for install
- so the splash back can sit flush and as close to the glass overhead cabinets and ceiling cornice as possible
I fluttered my eyelashes at the kitchen guys
and as a favour for
the delay with the kitchen install
asked them to take the end panels off the glass overhead cabinets and shave off 10mm and then redo the edging so the splash back can be fitted and then the panels can go back on.
Of course they said yes
...
I have pretty long eyelashes ;-)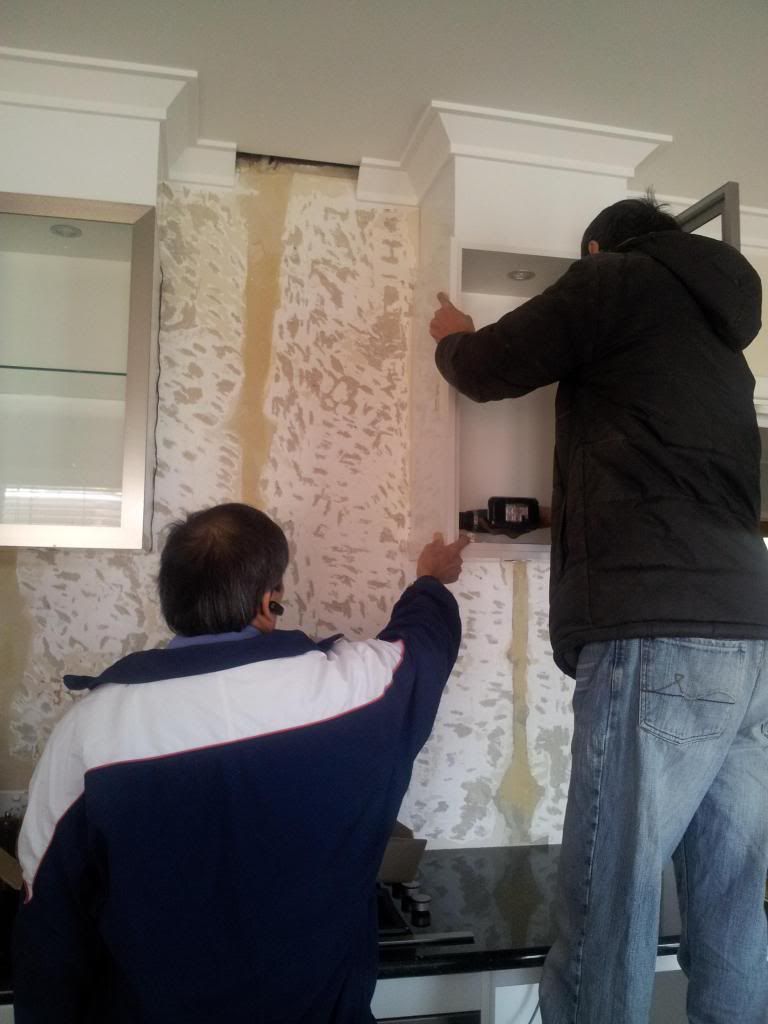 Kitchen guys removing the side panels off the glass cabinets
Side panels off and ready to be taken to the work shop to be modified
Range hood holes and power points
- we also needed to drill the holes into the wall for the range hood so the splash back guys can come and do a final measure which includes cutting out the range hood holes and around all the power points.
We decided to hang the range hood slightly higher than recommended at 800mm instead of 750mm because Mr P is quite tall and it's better for him to not hit his head every time he cooks and let out a bunch of expletives! It will mean the range hood doesn't extract at the premium range but for the convenience of it being at the height we want I don't mind that. That's the good thing about renovating you can customise things if you want to suit ...
right down to minimal swear words!
Range hood brackets installed so they know where to drill holes in the glass splash back
We are hanging the Range hood slightly higher than recommended
GlassKote
are coming tomorrow to do a final measure and then it will take them about 2 weeks to make the splash back and then they'll come back and install which apparently takes them just an hour.
It is going to look so freaking amazing when the splash back goes on ....
oh happy days!
What do you think of our glass colour choice Frosted Ice?
For updates on the kitchen as I go Like
Jarrah Jungle on Facebook
and you'll never miss a thing!
Pin It Now!