What's that I can smell in the air?
Oh yes
the sweet scent of a Long Weekend coming up! Yay for Monday's public holiday!
I'm linking up my Friday's Letters over at
The Sweet Season
head on over
here
and link up your letters too.
I'm imagining I'm writing this weeks letters from this retro cool office space tapping away with a hot chocolate in hand.
Dear Future Music Festival
- Sunday I'm heading to my first festival in years I just hope I can keep up with all the festival heads! My friends are going for
The Stone Roses
but for me it's
Bloc Party
I can't wait to see them live.
Dear Perks Of Being A Wallflower The Movie
-
I loved the book
and I'm sure I'm going to love Saturday's movie night just as much ... or at least I know I'll love the company with
my Tuesday Girls
!
Dear Lexi
- Week 7 we've had you now and you finally got your teeth into our sprinkler, after it was packed away each and every time it was used, the one time we forgot and you just couldn't resist. I don't know how many more
chew toys
I can give you to stop you chewing the things that you're not allowed to!
Dear Blog Boss Ecourse
-
The long awaiting ecourse
kicks off this month and I can't wait to get my creativity flowing and learn from the very talented ladies of
Decor8
.

Dear Long Weekend - Between trips to the hairdressers, shopping for kitchen appliances, a movie night and festival I want to find some me time to sleep in, play with Lexi and get lost in my design books this weekend :D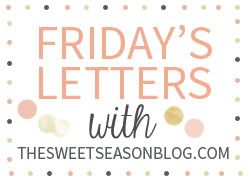 Head on over here to join in with Friday's Letters
Pin It Now!