I have some exciting news to share - the Courtyard / Retaining / Fence plans have been approved!
Since
my last update
in February 2013 we were up to our 3rd attempt at getting the Council to approve them and had paid 2 different application fees. We have now received our Building License and are good to go! I'm just glad it only took 3 months and not over a year like it took them to
approve the garage
.
We'd like to get
our brickie who built the garage walls
back to build the fence he did such a great job. We'll dig the trenches ourselves to save some money ....
Phfft who am I kidding
the Mr will dig the trenches not me
I'd better live up to the Sandwich Queen reputation and make some delicious sandwiches that day to compensate for the hard work!
Once the retaining is in a new driveway and pathway to the front door can be laid too.
It couldn't have come at a better time as the weather here in Perth is turning into Autumn and the rain is making the sandy uneven driveway muddy and dangerous. Since
the garage
was finished back in September 2012 I've been reversing my car out and have ripped my front spoiler off twice now
and no it's not my driving skills :D
it's because I'm using planks of wood and if the wheels aren't balanced on the wood planks perfectly the spoiler catches. It's not fun I can tell you it always happens when I have to be somewhere at a certain time!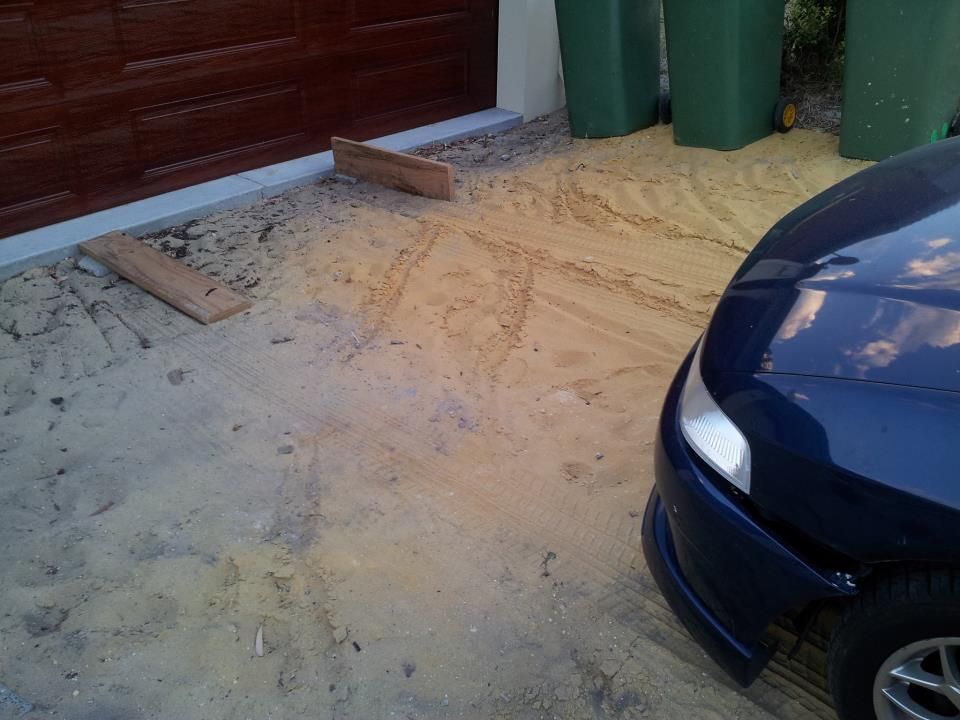 Because
the Kitchen renovation
has already kicked off and we'll have a bit of work to do over the next few weeks with that, the Courtyard project will most likely have to wait until the Kitchen has been finished.
Having 2 big projects ready to go and I'm not stressed about it at all like I thought I would be I'm really excited and can't wait to see the transformation these renovations will make to our home.
Pin It Now!