My imaginary office space I'm writing letters from this week is this sexy brooding room all I need is a leather bound notebook and a dry martini shaken not stirred!
Dear Promotion
- You have finally given me the recognition I have worked my butt off for and deserve .. Cheers to that!
Dear New Breadmaker - I was very impressed with your herb and cheese damper but not so impressed with your pizza dough that would not cook through even after an hour in the oven and the pizzas were in so long they burnt to a crisp and were inedible. You better improve on the dough front!
Dear Exercise Regime - I will start you next week. No more excuses. Must. Get. Fit!
Dear Cruise Holiday - You are now paid for in full and all I need to do is wait for your arrival in 2 months time. So excited!

Dear Little Old Lady In The Bookstore - When you turned to your friend and said Mavis this books for you "Dating The Second Time Around" and then you both started giggling as you walked out the shop it made me think no matter how old I get I hope I never lose my sense of humour.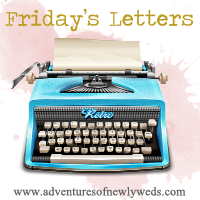 Pin It Now!