Now here's a first - the first place we checked out for Garage Doors and we decided there was no need to get quotes from anywhere else we'll go with these guys
Gryphon Garage Doors
. They make the garage doors themselves locally and it's always best to deal direct you get a better deal and a quicker turner over because you're not dealing with any middle man.
We are going for the cedar wood look in jarrah (of course!)
You can pick thin or wide panels (not suitable if you want windows)
Or this Ranch style with squares (suitable with windows)

I wanted window panels to let in a bit of natural light
Here are some of the different window styles
And this is the style of door we picked
A Sectional Cedar Look Door in Jarrah - Ranch style
With Sunrise Windows I liked this pattern as there are only 4 panels it looked less busy

We also got a single roller door for the back of the garage that goes into the backyard
The colour we picked is classic cream (top left sample)
so it blends with the house bricks
The door style is a metal roller door and will look similar to this door
except it won't have the key lock on the front as it is electric as well
Buying the 2 doors together we made a bit of a saving which is why we splurged on the electric roller door as well, it was an extra $200 but at the end of the day it will be much easier to buzz open the door with a remote than to have to find the key and heave the door up.
Hopefully the doors will be installed in the next 2-3 weeks and we can set up our garage, park the cars in, and have a garage party!
Sharing with this weeks Linky Parties
52 Mantels
and
Savvy Southern Style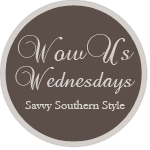 [All images via
Gryphon Garage Doors
except last image found here]
Pin It Now!