If you're a Jarrah Jungle
Facebook fan
you would've seen me unpack and move all my kitchen stuff into the new kitchen the other weekend. Although the kitchen was installed weeks ago
I was waiting for it all to be finished
before I moved anything in so it didn't get dusty and dirty but heck after 12 weeks I just couldn't wait anymore!
We still have painting and
a splash back
to install in here but it's made a world of difference being able to grab plates out of the kitchen without having to run into the laundry or get food out the pantry
without having to go into the garage
so I'm glad I'm in, even if I'm still dodging drop sheets!
Being an organiser, to start with I made a list of all my kitchenware and where I thought it could go - putting coffee cups near the coffee machine, pots near the oven, that kind of thing. Writing it out on paper was a lot easier than putting things into drawers and then having to move them. Once I had a pretty good idea of where everything would fit I then started to unpack everything.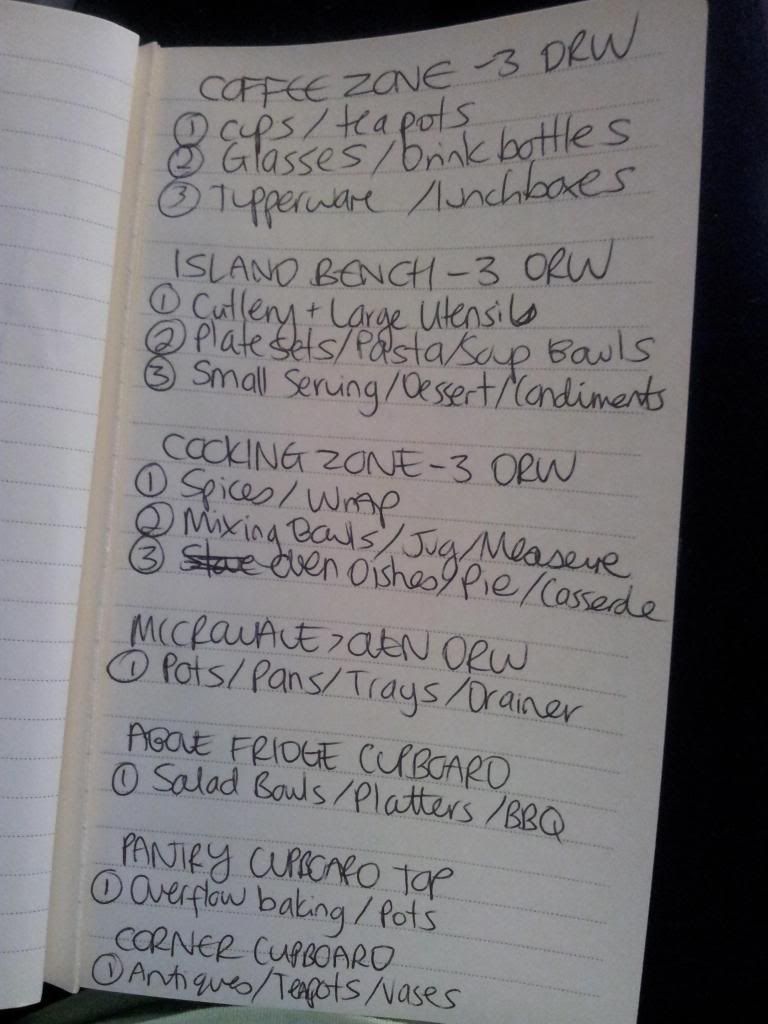 Getting organised - figuring out what to put where
I gave all the cupboards a really good clean and wipe out. I used orange spray which is fantastic for removing sticky labels left on the cupboards and has a lovely fresh smell too. The kitchen stuff that was packed away in boxes was put on a quick cycle on the dishwasher or washed by hand.
I'm loving my new dishwasher
by the way ...
my wine glasses have never sparkled so much!

The happiest I've ever looked cleaning!
Moving the food from the pantry in the garage into the shiny new pantry
All the food fits that's a good sign!
The open shelves I have rearranged about 3 times and will probably have rearranged another 3 times by the time you read this! I want to bring in some more pops of yellow to match
my art and clock wall
and have my eye on a very cool looking yellow pineapple jar from
Pigeonhole
and a yellow fruit bowl from
Freedom
. I love having a place for my cookbooks even if it's just a few it saves me having to go into the study to
my bookcase
when I want some dinner inspiration.

The constantly evolving display shelves
Now I was ready to start unpacking - in the medium sized bank of drawers on the sink side I put the coffee cups near where the coffee machine will go, glasses and cups in the next drawer, and plastic containers in the bottom drawer.
Set of 3 medium sized drawers
Under the sink I have squeezed in my baking trays which works well because this cupboard would otherwise not be used for anything so it'd be a waste of space. I'm going to have a look for a proper storage caddy to hold them neat and tidy. The detergent and sprays are in a pull out caddy which makes for really easy access - it was actually because of this caddy that
the double sink wouldn't fit
but I'm really happy with it so glad it stayed.
On the oven side in the small bank of drawers I put the spices and plastic wrap in the top drawer but I want to come up with something better for the spices - maybe a rack in the pantry or on the wall I haven't decided yet. I'll probably move the tea towels into this drawer when the spices are relocated so I'm not running down the hallway to the linen cupboard with dripping wet hands all the time!
Next I have my measuring bowls and jugs etc. And in the drawer below that my bake ware, casserole and pie dishes etc. There's also a large drawer on the other side of the oven which fit almost all of our pots and saucepans etc.
The island bench has the largest set of 3 drawers and holds the items for every day use - the top drawer is for cutlery (I'm going to get a cutlery tray for here), then plates and bowls, then my entertaining platters and dishes etc.
The island bench set of 3 large drawers - plates and bowls

The upper head cupboards have also been able to store quite a bit of stuff - bowls and platters above the fridge, large casserole dishes on top of the pantry and vases etc in the cupboard above the open shelves.
For
a small kitchen design
I have managed to fit what was in the old kitchen plus 3 huge boxes I unpacked of things that I hadn't seen for almost 4 years when I first moved into the place.
The date my kitchen stuff was packed up ... September 2009
It was so funny unpacking everything because my lovely Mum used some new doonas, fabric tablecloths and table runners etc to wrap everything up in to keep it safe so it didn't break. So I have also rediscovered 4 queen size doonas and pillow cases and lots of beautiful fabrics which are all now washed and put away in the linen cupboard ready to be used.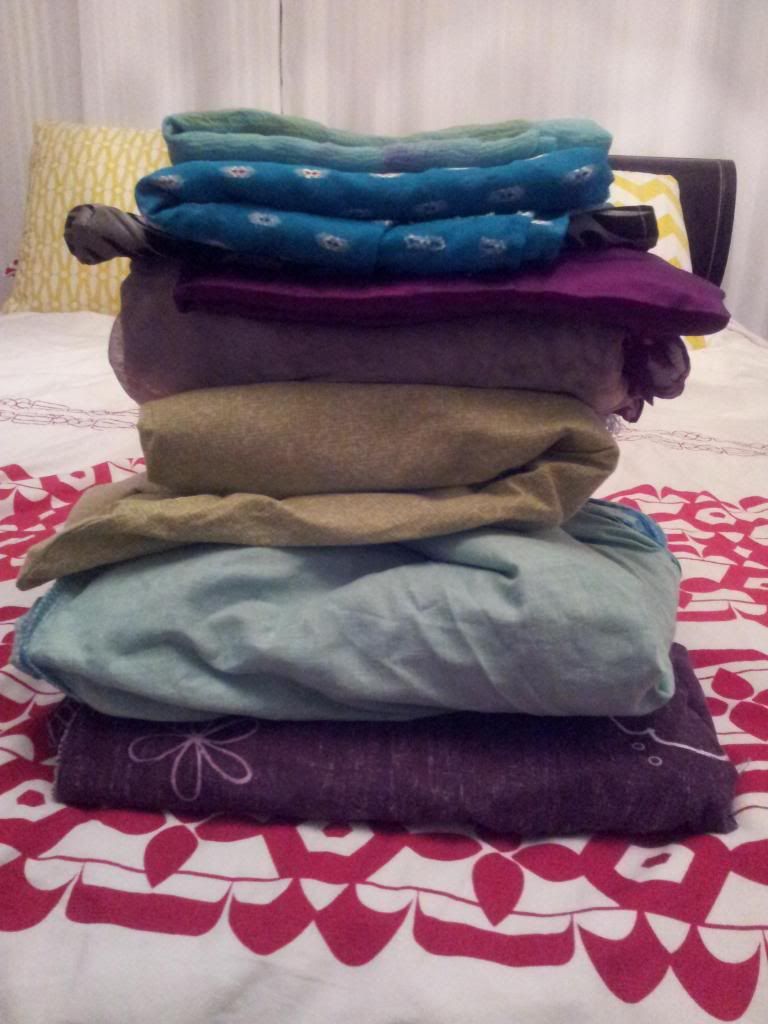 I'm really starting to settle into the new kitchen now that everything is unpacked and I can figure out some things that I need - like a new kettle and toaster is on the list, a pretty tray or plate to keep the oil, salt and pepper on by the stove, a tray for the coffee machine so I can set up a coffee station.
We are going furniture shopping this weekend to check out
dining tables, chairs and bench seats
and maybe some bar stools too if I'm not pushing my luck :)
Pin It Now!