I recently shared my
5 tips for buying appliances
which came about from the many shopping trips, research and reading reviews that I did before deciding on the kitchen appliances.
Now I want to show you the shiny new appliances we picked out and have been happily using for the last few weeks. The model and price details are at the bottom of this post.
Oven -
I fell in love with this
Electrolux electric oven
with it's light up display it looks really modern and has catalytic liners which means the racks slide out really smooth and easily. We purchased the oven with 12 pre cooking functions for pizza, roast, baking etc which makes cooking a no brainer really you just select what you're cooking and it adjusts the temperature automatically.
They have a self cleaning model but that was a bit more expensive, in hindsight we probably should have spent the extra and got that model but at the time we had already spent so much we thought it was a little extravagant to do. Either way this oven is awesome, I love it.
Cook top
- I was eyeing off the matching
induction cook tops
I love the sleek look of the induction as it is just a pane of glass there are no knobs to clean around and it has electric push button controls. Very flash!
Except that I found 2 issues with the
induction cook tops
-
1. It will only work on certain pots as the way induction works is that it senses the pot and heats up the pot base. The way to test your pots to see if they will work on induction is to stick a magnet to the bottom of the pot. .... so I went home and got out my favourite
Scanpan
pot I cook with almost every day and the magnet didn't stick, nor did it stick to my smaller gravy pots and saucepans or my casserole dishes. So that means we would need to buy a whole new pot set and unless they are going to throw one in as a freebie (which some of these Induction cook tops did offer) -
this is an expensive option.
2. The cook top can scratch easily if you like to shake the pot around on top of the cook top which I do a lot of, it's going to scratch and not look very new and shiny for long. Also if you drop the pot it can crack it because it's glass and you need to replace the whole thing -
that's an expensive accident to happen!

The sleek looking Electrolux induction cook top
So going for practicality we looked into gas cookers, which meant we had to
install gas in the kitchen
as we were using electric before. Installing gas was the best decision we made - cooking with gas is so much better than electric. You can really control the heat with gas, it gets hotter a lot quicker and hopefully will be a bit cheaper to run.
Gas cook top
- We purchased the matching
Electrolux gas 4 burner cook top
. It has knobs on the sides which are out of the way and the best thing is you can use pots side by side without them getting in the way of each other - that's something to keep in mind to
check out the size of the hot plates
to make sure you can use a few at a time ... if you can't cook a pot of pasta sauce and boil a pot of water for the pasta at the same time you're in trouble!

Our Electrolux cook top
Make sure there is space between hot plates for your pots
so your spaghetti sauce and pasta can cooking away together!
Range Hood -
This took us the longest time to decide on - we liked the look of the metal and glass canopy's because it will sit in the middle of the glass cabinets. We were a bit worried about grime and grease showing on the glass but I guess it would show on a metal one anyway.
There were so many styles but nothing really grabbed us until we laid eyes on
the Euromaid
which had a black strip to go with the ceramic cook top and LED touch rather than push buttons.
Unfortunately, when we unpacked it we discovered it was damaged and had been unwrapped before so looks like someone had returned it and we'd been given someone's faulty return. So we had to drive back to the store and swap it over for another one, no biggie it was easy to exchange but it was still a pain in the butt to have to do it!
We installed it ourselves
which was an adventure in itself, the first attempt we had pretty much finished after 4 hours of installing it and the metal duct split as we were finishing it off. So we had to start all over again and second time around it went in without a hitch.
It has been working great although it's a little louder than we had hoped but it looks good and the LED lights at the front are nice and bright too.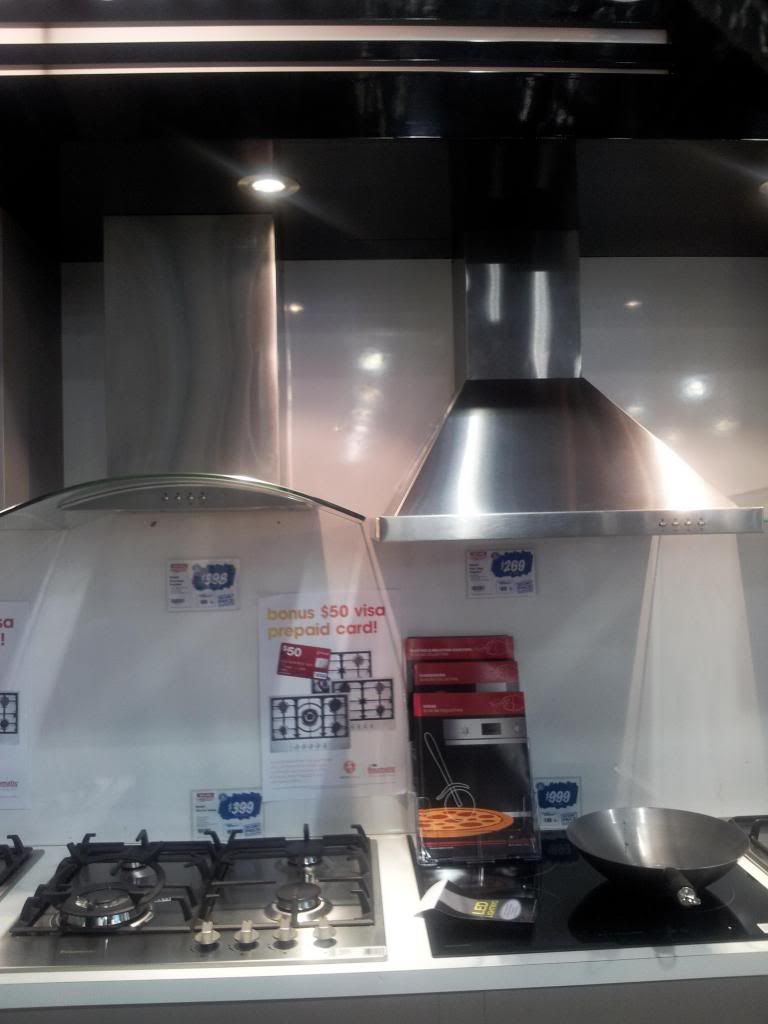 Glass Vs Chrome range hoods
What we picked - glass and chrome
Range hood installed
Dishwasher
- This will be my first house with a dishwasher what a treat!
I liked the idea of the double drawer dishwasher because you can run a drawer at a time if you don't have a full load and also it's easier to pull a drawer out than pulling open the dishwasher door and leaning around it to load. But on reading reviews I discovered that you could get a much better machine - quieter and runs more efficient for the same price.
So then we picked this
LG 14 place setting dishwasher
, it has a kick ass inverter direct motor drive with a 10 year warranty, it's so quiet you can hardly hear it's on and everything comes out so clean and shiny my wine glasses have never looked so good!
The best bit about buying the Electrolux appliances (the oven and cook top) was that
we won a trip to Sydney
! So that was an unexpected bonus and we have booked the weekend away and dinner at
Quay Restaurant
in February 2014 something to look forward to in the new year!
We mixed brands and bought from different stores depending on the stock they had and the price they could offer.
I'm really happy with what we have and I'm sure will get many years of cooking and washing from them.
So that is what we purchased:


12 Function Oven, Electrolux EOEE63CS, Kambos $1527
4 Gas Burner Cook Top, Electrolux EHGC64AS, Kambos $1049
Rangehood glass canopy, Euromaid CG9BLS, Harvey Norman $399
14 place Dishwasher, LG LD1452WFEN2, The Good Guys $637
The smaller
kitchen appliances
like a microwave, kettle, toaster and maybe a new coffee machine are next on the list and I'm really keen to check out some of the fun coloured models that are out in shops now like
Kenwoods Kmix
collection.
Pin It Now!