It's time for the Friday's Letters link up ... thanks a bunch
The Sweet Season
for hosting my favourite party!
I'm imagining this weeks letters are written on this comfy yellow couch surrounded by the perfectly styled bookcase I'll be right at home
Dear New Addition
- Mr P and I rescued from the
RSPCA
a little Rottie X Staffy 1.5 yr old pup on the weekend and called her
Lexi
. So far this week I've learnt not to leave anything outside that can be chewed, taught
Lexi
how to catch the ball AND bring it back and realised just how much love, attention and affection she needs!
Dear Entire Week Of Training - After 5 days of training this week I don't think my brain can possibly absorb any more information. I'll actually be glad to be back in the office next week ... just don't quote me on that!
Dear Flybuy Points
- I've been collecting
Flybuy
points for 10+ years and for the first time ever actually redeemed my points. A 12 month
Super Food Ideas
magazine subscription is on it's way to me but the funny thing is it's only valued at $30 - which makes me think all those years of shopping and card swiping what have I really achieved?!
Dear Kitchen Design
- You are finally in the making! After a trip to a Kitchen Showroom on the weekend, a Kitchen Designer came out this week and spent 2 hours helping us design our
Kitchen Reno
. I can't wait to see the plan drawn up ... then to pick the doors, bench top, splash back, appliances etc. Exciting times ahead!
Dear Chocolat The Movie
- Can't wait for tonight's movie night with the
Tuesday Girls
to compare
Chocolat
the movie with
Chocolat the book we read
. Everyone is bringing chocolate treats of some kind too not to mention the eye candy of Johnny Depp!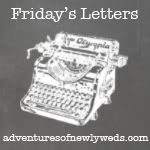 Head on over here to link up your Friday's Letters
[Image via Pinterest
here
]
Pin It Now!