I'm imagining this weeks letters are written pool side to escape this crazy hot weather we've been having with an icy cold cocktail in hand
Dear Xmas Holidays
- You were fantastic I feel refreshed relaxed and revived and ready to take on a New Year!
Dear Air Conditioning - You are still the best money spent on my house to date. I know it's a bit of a luxury but you can't put a price on having a comfortable night sleep on a hot summer night!
Dear Bugs - This week I've had encounters with a cockroach on the bus, a buzzing psycho mosquito keeping me awake all night and a wasp on the inside of my screen door. Stay outside and away from me where you belong bugs!
Dear Lemon Tree
- I'm sorry I neglected you on those scorching hot days and forgot to water you. It's my fault you are looking rather dead like but in fairness you haven't produced a single lemon since I bought you ... maybe you'll try harder from now on hmmmm.
Dear First Week Back At Work
- I have almost survived the dreaded first week back to work, the constant flow of icy cold air conditioning is definately a bonus.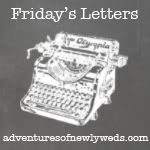 Why don't you head on over here and link up some Friday's Letters
Pin It Now!