Happy Friday everyone! I'm sharing my Friday's Letters with Ashley at
The Sweet Season
head on over
here
to link up your letters too.
Today I'm imagining I'm writing my letters from this cosy home office space surrounded by pops of yellow and sipping on a lemon tea.
Dear Buns Of Steel
- I've been walking the 30 minutes to and from the buss every day for 3 weeks now and I'm so damn proud of myself. The cold rainy weather hasn't stopped me yet I'm determined get me some
buns of steel!
Dear Lexi
- Week 18 and you barked like you've never barked before at our brickie whenever he started working with the noisy wet saw. It was great to hear you bark but probably not so nice to scare the wits out of him!
Dear Kitchen Reno
- We have just 2 weekends left to get so many things ticked off the
kitchen action plan
... this weekend we'll be restoring the floorboards by filling, sanding and sealing them, removing wall tiles and plastering and patching the walls ready for painting, remove the cornices from the ceiling so the new ceiling can go up.
No sleep in for me this weekend!
Dear Big Bro - When you offer to come over and help us renovate that doesn't mean asking every hour if it's beer o'clock yet and just generally being a distraction so we don't get any work done! You must earn your beers boy!!
Dear 3 Year Blog-versary
- What a milestone I crossed this week to be writing on this blog for
3 years now
... 520+ posts later and I'm loving my place in blogland more and more each day. Thanks for all your support my awesome readers xx
Dear Harvestbox Giveaway
- Don't forget to enter
my Giveaway
by midnight tonight for a box of tasty snacks to be delivered to your door anywhere in Australia!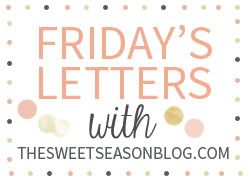 Pin It Now!