Happy Friday everyone! I'm sharing my Friday's Letters over with Ashley at
The Sweet Season
why don't you head on over
here
and link up your letters too.
I'm imagining I'm writing this week's letters from this very striking home office with its art gallery wall and I'll be typing away and sipping on a skinny latte.
Dear Degustation Dinner
- Mr P and I have been on the waiting list for months at
Amuse
and really looking forward to tonight's
12 course degustation dinner with matching wines
. Let's call it an early Birthday celebration :)
Dear Kitchen Demolition
- I still can't believe we ripped out
our old kitchen
it is kind of bitter sweet seeing it gone and what is left is a lot of work to be done getting ready for the new kitchen!
Dear New Oven and Stovetop
- After much research we finally picked out our first lot of appliances for the kitchen and they are ready to be collected this weekend ... so excited!
Dear Cooking In
The Garage
- The next few weeks are going to be pretty interesting trying to cook in the
makeshift kitchen the garage
I just have to come up with some more easy meals like my latest slow cooker recipe for
Spaghetti Bolognese
.
Dear
Lexi
- Weeks 15 & 16 you are still up to your digging and chewing antics but you are such a smart dog and obedient you have learnt your doggy manners although apparently that's because I'm a bit of a drill sergeant when it comes to doggy manners .... but it's worked you know when to
sit on your mat
!
Dear Mothers Day
-
Happy Mothers Day
for this Sunday to all the Australian Mums! And especially to my gorgeous happy loving kind caring one of a kind Mum. Love you to the moon and back xx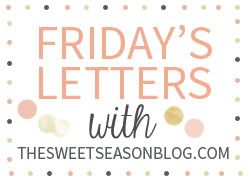 Head on over here to join in this week's Friday's Letters
Pin It Now!