I'm all out of energy as Friday rolls in this week and plan to relax as much as possible this weekend (ok between renovating cleaning and cooking of course!)
I'm imagining I'm writing this weeks letters curled up in this armchair surrounded by my love of books and sipping on a fruit smoothie
Dear Black Leather Boots - With you on I can jump through puddles and still look like a lady ... will kind of! Thanks for keeping my toes warm and dry this winter.
Dear Electrician - This is the 3rd weekend you're coming to put the lights and power into the garage. I'm pretty sure you keep coming back for my cordial and chocolate slice so please just finish the job already!
Dear Olympics - Doing jumping jacks while watching the Olympics on TV has definitely pushed me to do more than I thought I could! The athletes are so fit and toned the perfect inspiration to work out too.
Dear Body
- I know your getting worn out so I've upped the vitamins and owe you a full body massage and sleep in this weekend.
Dear Miss C
- Sending me flowers at work this week for 'no reason' just because you are a lovely friend. Thanks so much those bright pink flowers are just what me and my office needed for some brightening up.
Dear
Liebster Blog Awards
- It felt so good to give a shout out to my favourite newbie blogs ... there are so many wondering bloggers out there writing their little hearts out and it's nice for them to know they are appreciated and loved!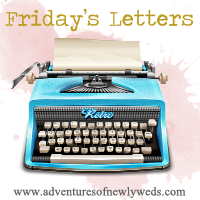 Pin It Now!