It's Friday yippee! Which means it's time for Fridays Letters link up with
Adventures of Newlyweds
. Why don't you head on over
here
and join in the fun
go on
you know you want to!
I'm imagining I am writing this weeks letters at this quirky writing desk sitting in that big comfy chair with a Pimms and Lemonade.
Dear Wild Fig
- Your offer of a free bottle of bubbles for a table of girls celebrating a Birthday is going to be very well received tonight!
Dear Learning New Things
- Computer course and Interior Design course are filling my brain this week and I'm loving learning new things.
Dear Roof Colour
- I have 4 painted tiles at home to choose your colour from
light/medium/dark and extra dark grey
. Such a huge decision to make I hope I get it right because you are finally being painted next week (
not by me thank goodness
!)
Dear Winter Hats
- Your chilly mornings are slowly being replaced by sunshine with Spring only a few weeks away. I need to get more wear out of my warm hats before they're put in the wardrobe for another year!
Dear Little Punk
- Why did you throw a concrete slab on my car bonnet Saturday night? I was asleep inside and you were outside damaging my property. Does it make you feel like a bigger man? Because it makes you look like a little punk! I hope one day someone does something to your hard earned property for no reason at all. Then you'll know what it feels like.
Dear Weekend
- I will not be painting or renovating for the first time in forever! I will be catching up with friends, going to the Markets, cooking a pot luck dish for my besties Birthday, celebrating said friends Birthday Friday
and
Saturday night, sleeping in and nursing a hangover. Can't wait :)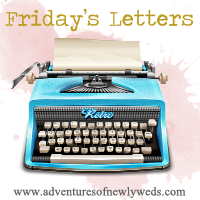 Pin It Now!