I'm going back in time this week and imagining I'm writing this weeks letters from this simple retro set up, tapping away on this blue typewriter and sipping from
my fluro pink teacup
Dear Bus People
- When there are empty seats on the bus why oh why do you feel the need to sit next to me? Grrrrrr.
Dear Yellow Shiny Things - I see you and I have to buy you. Espresso cups, a vase and rose stud earrings have made it home with me this week.
Dear Interior Design Course
- The course began this week and I'm so excited to be learning something I have such a passion for.
Dear Exterior Painting
- Fourth weekend in a row we will be spending outside painting painting and painting some more. If only there was a classic cream nail polish I wouldn't have to keep reapplying my fluro pink nails!
Dear Lotto
- $20 million up for grabs on Saturday! If I win it's my dream to get a round the world ticket flying business class ... Pick me Pick me!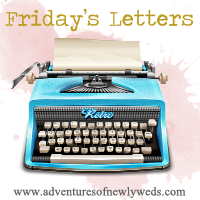 [Image via
my Pinterest
]
Pin It Now!