I'm imagining I'm writing this weeks letters from this fresh and inviting office space staring out the window and daydreaming about my next holiday destination
Dear
The Holiday Is Over
- Yes you are over in theory
but not in my mind
! I had such a wonderful time with my boyfriend I have many memories to keep me smiling for the rest of the year.
Dear Diet - Who am I kidding I don't diet I love food way too much! I need to work off those extra holiday kgs so healthy eating is definitely on the menu with more salads and veggies from here on out.
Dear Sydney - I will be visiting you again next week for a work conference and what I'm most looking forward to at the end of the day is my big hotel room and taking a long relaxing bath.
Dear Book Club Girls
- September's
book club read Fifty Shades of Grey
gave us more smutty laughs than any other meet up. I'm so glad I found
The Tuesday Girls
Book Club you have become such great friends to me.
Dear Karaoke - I don't sing but you are fun to watch everyone else (except those screechy high notes!) but 2 weeks in a row I think I might have a little break now and stick to X Factor on tv!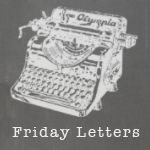 Pin It Now!