I'm imagining I'm sitting in this adorable home library writing this weeks letters with a little espresso in hand and being surrounded by my love of books.
Dear Coffee - You have been my savour this week and I know I don't say it enough so I'm saying it now - you keep me sane thank you for your endless pots of caffeine goodness.

Dear Work Conference - It was a jam packed few days in Sydney but I made the most of the time and have come back with a brain brimming with ideas.
Dear Bath - Nothing soothes me after a long flight like a relaxing soak in a bath full of bubbles. Pure bliss!
Dear Mr P - I was only away for 3 nights but it felt like so much longer. I really missed you baby.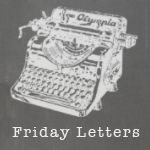 Have some weekly letters to share?
Head on over to Adventures of Newlyweds and link up too!
Pin It Now!