I'm a little excited this Friday because next Friday I'll be on holidays for a week yipee yiy yay!
I'm sharing my Friday's Letters over with Ashley at
The Sweet Season
why don't you head on over
here
and link up your letters too. It's a great way to vent about your week and connect with some fun and friendly bloggers.
I'm imagining I'm writing this week's letters from this beautiful feminine work space sipping on a glass of champagne because the bubbles help with my creativity!
Dear Brands, Businesses, Etsy Shops etc
- I'm excited to announce I've started
advertising on my blog
and offering an opening special of 50% off rates if you book this month.
Contact me
to secure your ad space!
Dear
Liebster Blog Award
- It was so lovely to receive 2 of these awards recently and it was even better to be able to do a shout out to some up and coming blogs. Head on over
here
to check them out.
Dear
Lexi
- Week 14 and you have been digging some big ass tunnels this week like you are trying to escape or something! I know you're not being exercised enough so we'll make more of an effort to get home early to take you for walks from now on.
Promise.
Dear Next Weeks Holiday At Home - Mr P and I had a cabin booked in the sleepy sea side town of Dongora with all his family but unfortunately we aren't able to go now due to Mr P's work commitments. But I'm still having the week off to relax around home and I can't wait!
Dear Cruise Holiday
- I made a last minute decision this week and Mr P and I have booked ourselves on a cruise holiday onboard the mammoth ship
Voyager of the Seas
. This time we are taking my Nanna and friend and my parents are coming along as well. It will be a relaxing family holiday and I can't wait to tell you more about it!
Dear Walking Home
- For the entire week now I've managed to get off my buss early to walk the 30 minutes home. I'm always on a mission to get
buns of steel
and get fit before I go on holidays so the cruise is a good incentive to get to it.
Dear Renovations
- To have
the new kitchen
in and
courtyard
built before our cruise holiday in November would be awesome. It's time to get our tradies organised and our hands dirty and get this work done.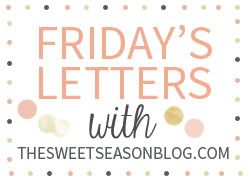 Head on over here to join in this week's Friday's Letters
Pin It Now!