Lexi has turned
the lawn
into a sand pit with her running and digging, beware of twisting your ankle walking into her rabbit hole tunnels she loves to dig, she's pulled over and emptied all
my herb pots
under the patio,
frangipani cuttings I'd been growing
chewed to bits,
vegetables
trampled and destroyed, all the plant tags removed so I have no idea what I've planted where ...
I've officially given up on the backyard!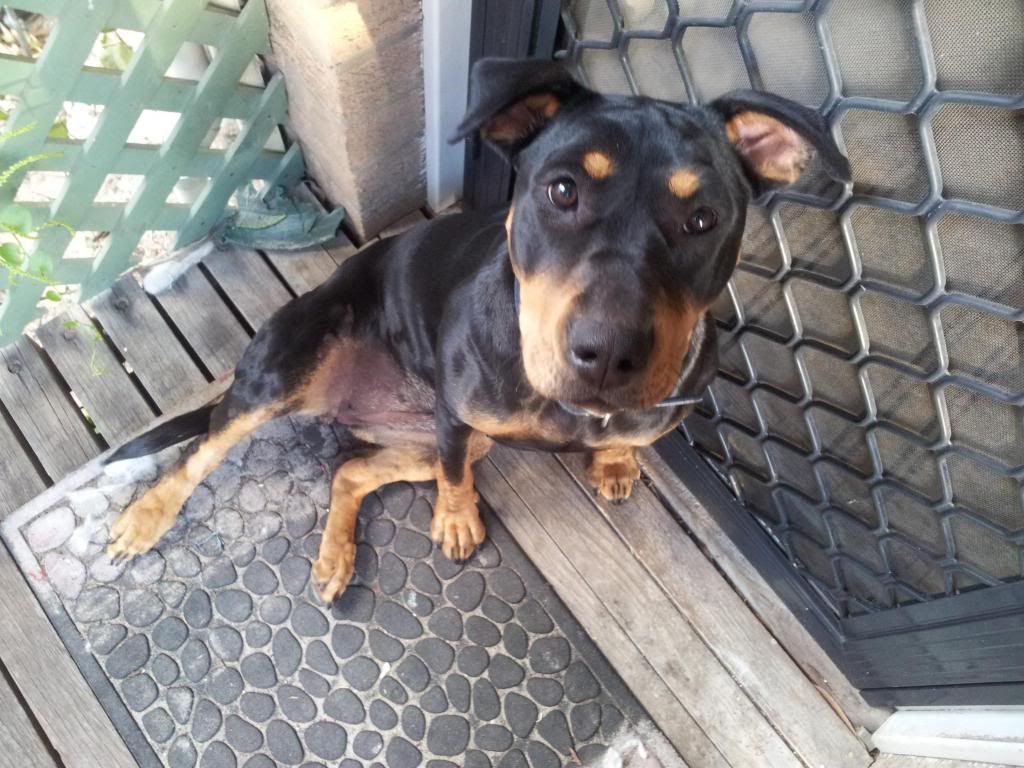 Like most dogs Lexi's 2 favourite things to do are CHEW and DIG
!
She pulled down a set of brand new outdoor lanterns 1 by 1 and tore them to shreds, all my plastic solar lights, wooden stick oil burners, little kids shoes (
oh yes that caused tears!
),
her own bed and blankets
, door mats, just about anything she can get her teeth into really.
Mr P put a paint brush down turned his back for 10 seconds and she had grabbed it in her mouth and ran with wet paint dripping everywhere to chew her new play thing.
Can you imagine? Lexiiiiiiiiii drop the paint brush now!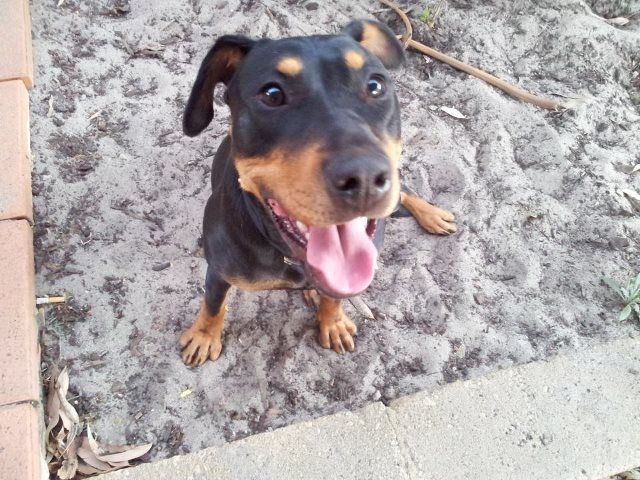 There must have been kids that lived in our home before us,
finding toys down our drain
was a big hint to this!
Lexi has dug up all sorts of treasures ... Barbie dolls, dinosaurs, trucks, cars, figurines and all sorts of funny objects. It's hilarious to come and find her in her bed holding onto a dinosaur with its head bitten off.
You get em Lexi!
When Lexi's not chewing - she's digging.
Oh yes we have lots of places for her to dig. Like where our lawn use to be for instance.
Yes we had lawn
but not anymore. The backyard is just one big sand pit for Lexi to dig until her little paws are content. Sometimes she doesn't just dig,
she excavates!
Check out this little project she left for me recently ... friends think she should be helping to work on the mines she'd find gold in no time!
It took me a while to realise that whenever I give her bones, she buries them straight away. And then digs them up. Buries. Digs up. Buries. Digs up.
When I caught onto this I started to make little ice
dog treats
for her instead that way she had to lick her treat she couldn't bury it anywhere! It's a mix of beef stock, leftover meat, chicken or veggies or dog biscuits and I freeze it in a disposable container and then put it in her bowl for her to lick away for hours. I did wonder if her tongue would stick to it but it didn't (
thank god!
) and it kept her amused for a lot longer than digging bones did.
On the upside Lexi has been learning her manners and knows how to
sit, drop, stay
, and
go to her bed
.
I've tried teaching her to catch the ball but half the time she makes me go fetch it myself which isn't so much fun! She does love to play chasey though, she bolts around our
Around The Tree Garden
and has now made a bit of a running track for herself, complete with booby trap holes so if we should follow her around the tree to chase her some more we would probably twist an ankle.
Ouchy!

Lexi the backyard destroyer ... just don't leave your shoes outside friends!

Do you have any tips for stopping dogs from digging and chewing everything?
I'd love to hear them!
Pin It Now!