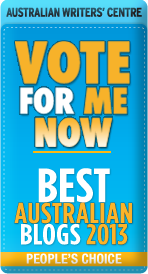 This week the 25 Finalists were named over 5 categories you can check them out
here
. These finalist blogs have very talented writing styles and quality content I can see why they were selected by the Judges.
Of the
Lifestyle/Hobby
finalists named most of the blogs are about food and travel, none were renovating and decorating blogs which I was really quite surprised about.
I'm still feeling pretty special in
my niche area of blogging
about my home renovations and with the
Kitchen Renovation underway
be prepared for lots of DIY stories and misadventures in the coming weeks ...
You can vote here in the People's choice until 30 April 2013
Thanks a bunch for your support xxx
#BestBlogs13
Pin It Now!