My wonderful parents gave me this
Sear and Slow Cooker
for Christmas after my last slow cooker died.
Don't get me wrong my last slow cooker got a good work out although I had
a few near death by slow cooker experiences
with it too! What annoyed me the most was having to brown the meat first before putting it into the slow cooker. That's what I love about
this one
is that I don't need to dirty a pan to brown the meat first, this slow cooker does all that in the one pot.
I'm sure I'm not the only one who is happy with less dishes!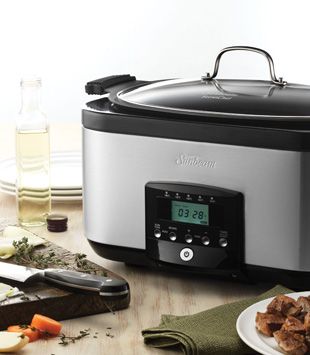 As the weather changes from Summer to Autumn and the days are getting colder and wetter there's nothing like coming home from work, opening the front door and being greeted by the delicious smell of a slow cooked dinner waiting for you.
Here are some slow cook recipes from
Taste
I want to try in the coming cooler months.

A rainy night and a glass of wine and I'll be right at home with any one of these slow cooker recipes!
What's your favourite slow cooker recipe?
[Images via Sunbeam and all other images via Taste]
Pin It Now!